Links

​My banners



Feel free to ask for a banner exchange if you wish to !
---
BDSM webshops
​
He will make your BDSM dreams come true: wood, metal or leather, just ask him and see the wonder he can offer you!
Only made to measure items with a lifetime warranty!

---
​
Fetish shops
​
You will find all you need in this brand new store !
---
​
BDSM Forum, sites and parties
​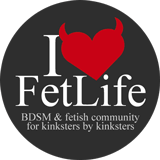 Fetlife ​- International BDSM Forum
​A huge site with thousands of topics and members. You will find sections about your area and also tons of information regarding parties and so on!
​
A great FemDom forum, with very classy Ladies who happen to also be very close friends of mine...
But be warned that you will never be allowed through the gates if you do not fill in your admittance profile properly: be really careful on this point!​
NB : this is NOT a gynarchist forum.
---
​
A very nice party hosted by Mrs Shane and Mrs Morticia. Held in the Fetish Cafe, you will have plenty of time to torment your little subbies!​
---
​
Feel free to contact me if you wish a banner exchange !
---